More than 183 friends, alumni and retired educators have purchased tickets. While the brunch is open to the public, ticket sales have ended. No additional persons can be accommodated. But media is welcome! Thus, the dedication was delayed and took place after winter passed.  For more information contact Elizabeth Carnahan principal of FJ Reitz High School 812 435-8202 or Ann Ennis 812 483-5671FacebookTwitterCopy LinkEmail

From noon until 1 pm, school tours will be offered with a focus on historic additions and historic features. Most attendees will be retired staff members from FJ Reitz and alumni — most of whom are graduates from before the 1970s even into the 1940s.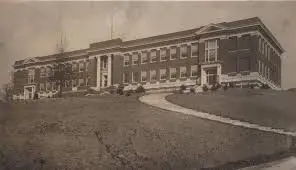 Big Blue Boosters, a 38-year-old non-profit club supporting extracurricular activities at FJ Reitz has led anniversary preparations beginning in 2014 through this event.  A Birthday Bash in September, Pub Crawl in October, the re-enactment of groundbreaking and cornerstone placement during 2017, an integration panel discussion in February and visit the Reitz Home Museum in September have been part of the celebrations. The boosters and volunteers have produced a pictorial history book, heirloom boxed Christmas ornaments, anniversary t-shirts and Feel the History short digital features.  Also, led by Big Blue Boosters, donors have raised more than $54,000 to fund architecturally significant entry gates to the school's drives.   The brunch commemorates the 100th anniversary of dedicating Reitz High School. The original dedication occurred in March 1919, even though the school opened in September 1918.  Construction was not complete until late October 1918, and during November all Evansville schools closed for several weeks due to the Spanish Influenza epidemic.   Saturday, March 16, 2019, between 10 a.m. and 1 p.m., in the FJ Reitz High School Cafeteria, Big Blue Boosters is hosting the 100th-anniversary brunch. The historic high school on Reitz Hill has been celebrating its 100th year during the last 10 months. Before and during brunch, FJ Reitz students from choir and instrumental music will perform. A special AV presentation will be given by Indiana Teacher of the Year and Sagamore of the Wabash Jon Carl of FJ Reitz High School. The brunch is sponsored by Heritage Petroleum. Reitz cafeteria overlooks the Ohio River and features a balcony with an amazing river view.  Reitz the oldest EVSC high school that retains its original location.  FJ Reitz pre-dates Reitz Memorial High School's construction by six years. The Brunch closes out the major 100th anniversary year celebrations. 
read more
BEN CLASSON/Herald photoAfter finishing third in nation for scoring defense in 2006, giving up only 11.9 points per game on its way to a 12-1 record, the Wisconsin defense was expected to be a force to be reckoned with in 2007.However, the defense slipped back to 35th in the nation (and sixth in the Big Ten), giving up an average of 23.3 points per game and letting its opponents top 30 points six times on the way to a fourth place finish in the conference.The linebacking corps of Jonathan Casillas, DeAndre Levy and Elijah Hodge combined to lead the team with 233 tackles. Despite leading the team, the linebackers realize they still haven't played to their full potential."There were times that we showed glimpses of what we can do, but consistently we didn't," Hodge said."We're nowhere near it," Levy added. "I don't want to make any excuses or anything. I think, as a unit defensively, we didn't play to our potential. I think that's a big reflection of the linebackers. We're the core of the defense. We got to be the heart and soul of the defense, and nobody really stood out."After a disappointing season, the linebackers are using last year as motivation to come out in 2008 and show everyone what they are capable of. "It was kind of a disappointment on an individual level and a collective level, for the team and for a lot of people individually," Levy said. "There were a couple of high points and a lot a low points. Those low points get you beat. They get you beat four times and a couple of near losses early in the season. We just want to improve."Casillas and Levy, who will be seniors in the fall, have the added motivation of having only one more year left to win the Big Ten."A lot of the seniors are a little more urgent this year," Levy said. "Last year was kind of a disappointment. It ended in a disappointment. We try to instill in some of the younger guys that you have to be hungry all the way through because nothing is guaranteed. I'm sure everybody coming here thought we would have a Big Ten Championship. But it's our last year and last shot at it, so we want to give it our all."Although they classify last season as a disappointment, one of the bright spots in 2007 was that the corps of Casillas, Levy and Hodge were able to build chemistry."We got a year under our belt, and we saw things we were good at and saw things we weren't good at," Levy said. "We get a chance to look back and critique ourselves and improve on what we weren't satisfied with.""The chemistry is there, so now it's just putting it on the field, going out and showing everybody what we can do," Hodge said.As spring practice progresses, the linebackers are taking it one day at a time with the goal of improving a little bit every day.Hodge said his goal in spring practice is to "just to get better as a linebacker; get better as a football player and get my techniques better.""I just want to improve and take the next step," Levy said. "Everyday I want to focus on something, whether its footwork or hard placement, tackling and coming to balance. Just the little things, the little fundamentals."Besides getting better every day, all three players have been dealing with injuries this spring, with Casillas the latest to be limited when he hurt his ankle during a drill at Thursday's practice. And while they are all dealing with injuries, they realize it is important for them to get healthy now so they can be effective in the fall."I think one of the big things is to get healthy first," Levy said. "First and foremost everybody has to be healthy. Hodge is still kind of recovering from his offseason surgery. [Casillas] is still kind of dealing with his ankles a little bit. I'm dealing with my back a little bit. Springtime is a good time to take care of all the things you don't have time to during the season because you have to prepare so fast."It will be important for Casillas, Levy and Hodge to get healthy by fall, as the linebackers will once again be the core of the defense. But they have taken it upon themselves to bring Wisconsin's defense back to 2006 form."You have a unique situation because you are very much in the run game and the pass game," Hodge said. "Everything forms around the linebackers, so I'm anxious to see how we do this year.""It's going to be just as big as it is every year," Levy added. "If we play well, the defense usually plays well. If we play bad, the defense usually plays bad. We're kind of that middle ground of pass coverage and run stopping. It's a lot on us, but I think we will be ready for it."
read more